[ad_1]

The wearables market worldwide grew substantially by 82.3% in Q4 2019, shipping 118.9 million units according to a report from IDC. The total shipments for the year 2019 amounted to 336.5 million devices which calculates to 89.0% increase compared to last year. The top five companies for Q4 2019 were Apple, Xiaomi, Samsung, Huawei and Fitbit.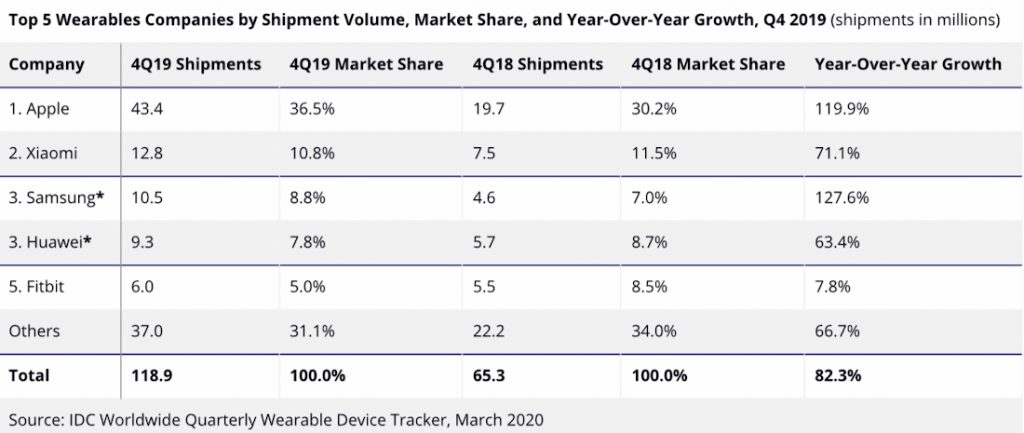 Apple continues to lead the market, shipping 43.4 million units during the 4th quarter of 2019 with strong sales with Airpods, AirPods Pro and Apple Watch. Xiaomi took second place, shipping over 12.8 million wearables of which wristbands accounted for 73.3% (9.4 million) of units.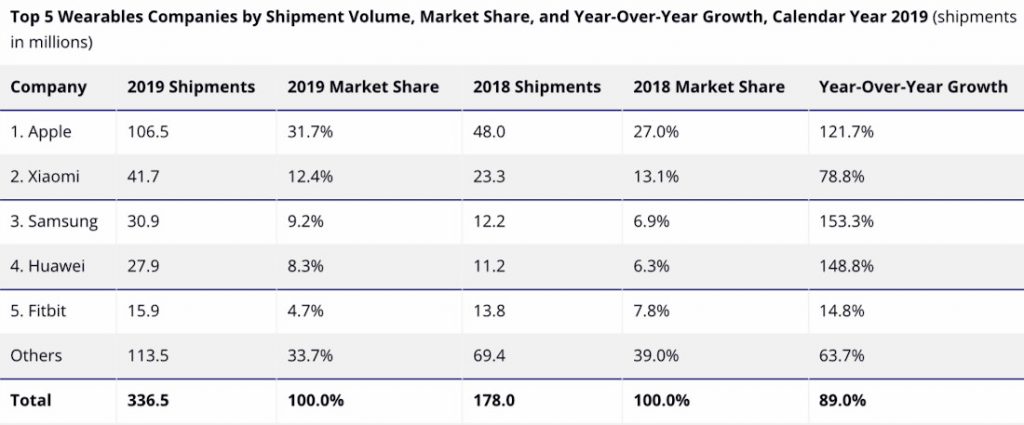 Samsung's good sales of Galaxy Active and Active 2 smartwatches earned it 3rd place, shipping about 10.5 million units. Huawei found itself at 4th place and FitBit placed in 5th with 9.3 million shipments and 6 million shipments respectively.

Looking at categories of wearables separately, ear-wear topped the list, shipping 170.5 million units and growing by 250.5% YoY. Wristbands shipments saw a growth of 37.4% with 69.4 million units while 92.4 million watches were sold, its market share recorded at 27.5%.
Commenting on the growth of wearables, Ramon T. Llamas, research director for IDC's Wearables Team said:
2019 marked a strong step forward for the worldwide wearables market. Hearables were the big story due to new product introductions and more smartphones cutting the cord with traditional earphones, practically driving users to purchase a hearable. Not to be overshadowed were smartwatches and fitness trackers, which both posted record annual volumes from an abundance of lower-cost models.
[ad_2]

Source link